Tags
adventure, Alfonso Ribiero, ballroom ghosts, Bill Barretta, Black Widow Bride, brian henson, bride, caretaker, comedy review, Constance, Constance the Black Widow Bride, Danny Trejo, darren criss, dave goelz, Dead Tom, Disney, disney muppets, Disney Plus, disney review, Disneyland, doom buggy, ed asner, film review, Fozzie Bear, Ghost Host, gonzo, Halloween, Halloween movies, haunted, haunted house, Haunted Mansion, haunted mansion caretaker, haunted mansion holiday, Hitchhiking Ghosts, Jim Henson, Johnny Fiama, Johnny Fiama and Sal, kermit, kermit the frog, Kim Irvine, Madame Leota, miss piggy, movie review, Movie Reviews, muppet, Muppet Monster Adventure, Muppet Movie, muppet treasure island, Muppets, Muppets Tonight, musical review, Pepe, Pepe the King Prawn, piggy, puppet, puppeteers, puppetry, puppets, review, Rowlf, statler, statler and waldorf, stretching portraits, television, television review, television special, The Great Macguffin, The Haunted Mansion, The Muppet Movie, the muppet show, The Muppets, theme park, theme park ride, tv, TV movie, tv review, tv series, tv special, Uncle Deadly, waldorf, Walt Disney World, Will Forte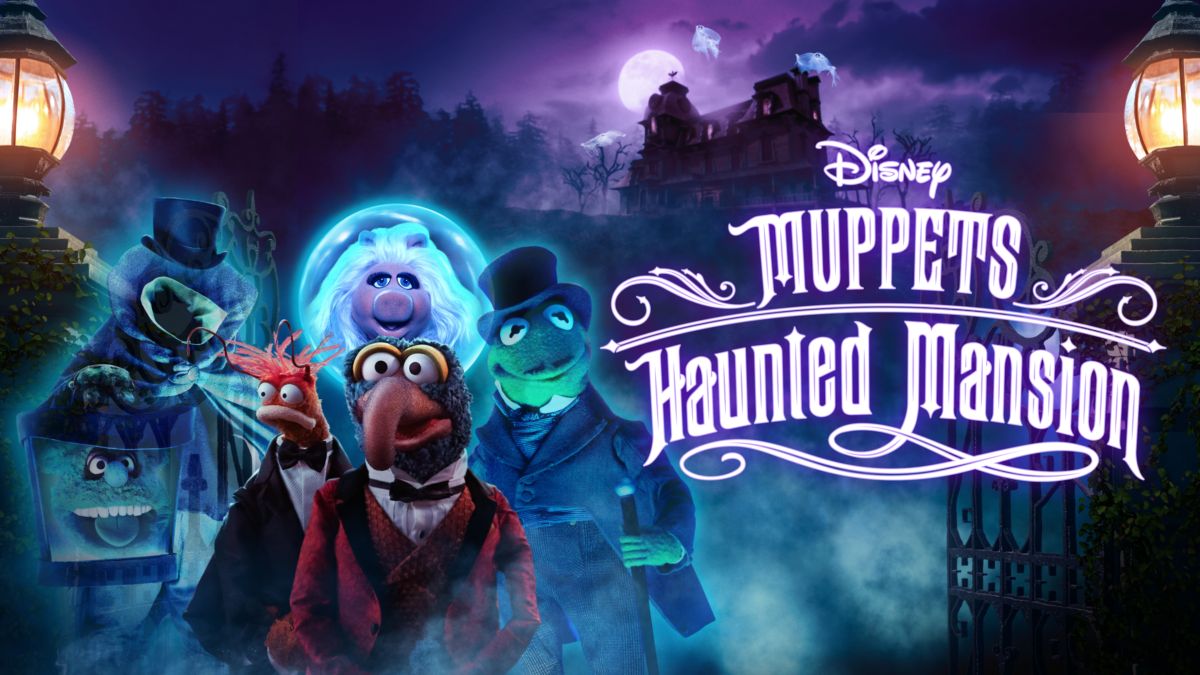 Surprise, you're getting another Halloween review because I couldn't wait another 365 days to talk about my favorite spooky special in recent years.
Muppets Haunted Mansion (or as I sometimes call it, "Muppets Most Haunted") is one of those features that feels tailor-made me. It combines three things I love: the Muppets, Halloween, and the beloved Disney ride The Haunted Mansion. If you're wondering why no one thought to do something like this sooner, well, they did. Brian Henson's first idea for a Muppet project after his father Jim Henson passed away was a Halloween special. Though it didn't pan out, The Muppets Studio toyed with doing something creepy, kooky, mysterious and spooky with Kermit and the gang for years.
This brings us to the Muppets and Disney. The last time they both got together to do anything theme park-related was The Muppets Go To Disney World special, a couple of short-lived in-park shows, and MuppetVision 3-D. Cut to thirty years later and now Disney owns them. After the success of the 2011 film, the concept of a Muppets Halloween special was revived. Longtime Muppet director and writer Kirk Thatcher took the helm, and the result is magic.
I think Jambreeqi said it best when he called Muppets Haunted Mansion a variety show with a plot connecting the segments. It's not unlike a classic episode of The Muppet Show made feature-length. There's guest stars, gags, bad puns and musical numbers galore, and a surprising amount of heart as well. Every second is filled with love for the Muppets and the Haunted Mansion.
Please note that I'm going to be spoiling the entire special, so drop what you're doing and go watch it first. You will not regret it. This special is truly something worth experiencing before I color it with my own commentary, no matter how glowing it may be. While it's been on Disney Plus for a year now, it's making its cable debut this weekend for anyone who hasn't seen it yet (or LAST weekend as of the time this is posted, thank you new job and stomach flu). Also, I'm aware that some of my readers have never been to a Disney park or ridden the Haunted Mansion before, so I'll do my best to put some of the scenes, references and in-jokes in their proper context.
Continue reading