Tags
2D animation, angelina jolie, animated, animated feature, animated movie, animated movie review, animated musical, animation, animator, animators, anthropomorphic animal, aurora, ballet, barbara luddy, battle, battle to end all battles, battle with the forces of evil, bill shirley, bill thompson, blue, briar rose, cake, charles perrault, classic disney, curse, diablo, Disney, disney animated, disney animated feature, disney animated movie, disney animation, disney golden age, disney love, disney review, disney song, dragon, dragon battle, dress, drunk minstrel, eleanor audley, evil fairy, eyvind earle, fairies, fairy, fairy tale, fairytale, fauna, flora, forbidden mountain, forest, forest fairy, forest of thorns, goblins, hail to the princess aurora, hand drawn animation, horse, hubert, i wonder, king hubert, king stefan, Maleficent, maleficent battle, maleficent dragon battle, marc davis, mary costa, medieval, medieval art, merriweather, minions, minstrel, nature, once upon a dream, orcs, owl, philip, pink, prince philip, queen leah, raven, samson, shield of virtue, skumps, sleep, sleeping, sleeping beauty, sleeping beauty waltz, spinning wheel, stefan, sword of truth, Tchaikovsky, the brothers grimm, the sleeping beauty, thorns, three good fairies, traditional animation, verna felton, Walt Disney
Whenever I discuss Sleeping Beauty with someone who doesn't share my enthusiasm for Disney, they have an irksome tendency to get it muddled with Snow White; their excuse being "it has the same plot". I'll admit, there are some surface similarities that even the most casual viewer can pick up on: a fairytale where a princess is forced into unconsciousness and wakes up with some necking, the comic relief and villain being the most beloved characters, a little frolic in the forest with animals, the antagonist plunging off a cliff, you get the idea. In fact, Sleeping Beauty even reuses some discarded story beats from Snow White, mainly our couple dancing on a cloud and the villain capturing the prince to prevent him from waking his princess. Yet despite that, Snow White and Sleeping Beauty are two wholly different movies shaped by the era and talents of the time.
I've discussed how Walt Disney was never one to stick to a repeated formula, no matter how successful it was. He must have noticed the parallels between his first movie and this one, but decided to make one crucial change for Sleeping Beauty that would forever differentiate the two: the look. We all know the traditional Disney house style: round, soft shapes, big eyes; charming as it was and still is, Walt was sick of it after several decades. Meanwhile, artists like Mary Blair and Eyvind Earle were producing gorgeous concept art that rarely made a perfect translation into the Disney house style.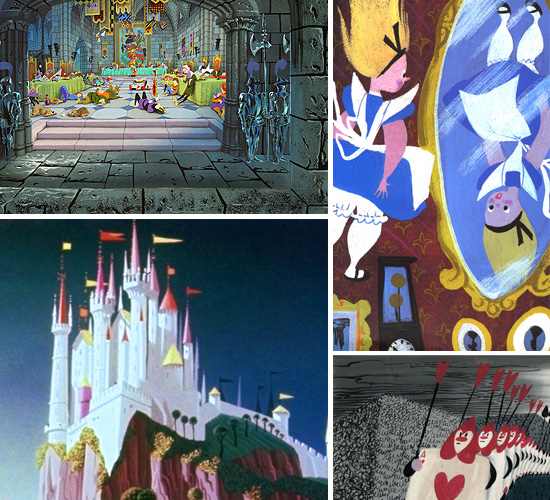 Walt wanted to make a feature that took the pop artistry of their designs and made the animation work for it instead of the other way around – which brings us to another animation studio that was doing well at the time, United Pictures Animation, or UPA.
UPA didn't have the kind of budget Disney normally had for their animated projects, but what they lacked in fluidity they made up for in style. Watch The Tell-Tale Heart, Gerald McBoing-Boing and Rooty-Toot-Toot to see what I mean. UPA were pioneers of limited animation, taking their scant resources and creating some striking visuals with bold geometric designs. Through this, they defined the look of 50's animation. Though perhaps unintentional, Sleeping Beauty comes across as Disney's response to UPA, or what would happen if UPA had the funds they deserved. The characters' contours are angular but effortlessly graceful, defining their inherent dignity and royalty. And the colors, ohhh the colors…
Because of the immense amount of work required to animate in this difficult new style (and in the Cinemascope ratio, no less) as well as story troubles and Walt barely supervising the animation studio now that he had his hands full with live-action films, television, and a theme park, Sleeping Beauty had a turbulent production that lasted the entirety of the 1950s. For a time, Chuck Jones of Looney Tunes fame was set to direct. Director Wilfred Jackson suffered a heart attack partway through production and Eric Larson, one of the Nine Old Men, took the mantle from there before Walt Disney replaced him Clyde Geronimi. And even after that, Wolfgang Reitherman teamed up with Geronimi as co-director to get the film finished after no less than three delays. Also, Don Bluth got his foot in the door as an assistant animator for this feature, beginning his short-lived but impactful tenure at Disney. Did all this hamper the movie, or did they succeed in what they set out to accomplish?
Well, one of the reasons why this review took so long was because I had a hard time not repeating "MOVIE PRETTY" and "MALEFICENT AWESOME" over and over. Make what you will of that.
Continue reading